Mark Lancaster
Forum Admin

United Kingdom
1651 Posts

Posted - 17 Apr 2006 : 17:03:40



---
Core Training

Sunday training is at Abbey Sports Centre - 10am to 1pm. (please note that due to massive price rises, Sunday training is moving out of the Abbey Sports Centre. Contact us directly for more information)

Abbey Sports Centre
Axe Street
Barking
IG11 7NA
Click here for on-line map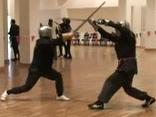 The first session is free and after that you can either pay a weekly fee or a monthly fee, if you become a member (click here for more details).

At the start there isn't any need for equipment as anything required will be loaned, but later you will need to invest in your own equipment.

The training itself covers the teachings of Fiore dei Liberi (c 1410). The system covers:


Unarmed

Unarmed v Dagger

Dagger v Dagger

Dagger v Sword

Sword used one-handed

Sword used two-handed

Half Swording

Pole Arms, Spears, etc.

The entire system is integrated (for example, with unarmed techniques working within the sword techniques).

Please contact us before you turn up to your first session - secretary@the-exiles.org.uk

Membership

We have three types of members - Casual, Full and Overseas

Casual Members

Casual Members pay per training session and can join our emailing list. Anyone who attends training sessions and workshops can qualify as a Casual Member.

Full Members

This is available to those who attend regular training (and in some circumstances those who attend workshops). An annual fee is payable and this gives the following benefits:


BFHS Membership
BFHS Personal Accident and Public Liability Insurance
Access to "Exiles Members" forum areas

Membership of our emailing list
Membership of Exiles Study Groups
Option to pay a "per session" or a discounted monthly training fee
Ability to take and move through our level based training
Workshop discounts and equipment
Exiles email account, calendar, address book, etc.

Overseas Members

Overseas members are people who have trained with us and, due to their level of training, have been invited to become Members of The Exiles. They are considered to be Full Members for all practical purposes, but do not have to pay a membership fee - as they cannot obtain the "UK benefits" such as insurance and BFHS membership.

Study Groups

Exiles Study Groups (ESGs) are sub groups within The Exiles available to all Full and Overseas Members. These are not "chapters" or independant groups, but extra-curriculum groups within The Exiles that work from the core study and training programme.

ESGs cover various areas including:


Additional Training and Practice
Historical Research
Academic Reseach
Discussion Areas
Etc.

If you are a Full or Overseas Member and wish to join an ESG then please either contact the leader for that group (see the member section) or the Secretary
Mark Lancaster
Forum Admin

United Kingdom
1651 Posts

Posted - 05 Oct 2007 : 00:38:34



---
We've added a new benefit to full membership. An Exiles email address

e.g yourname@the-exiles.org.uk

But more ....


Internet access to email
Personal Calendar
Personal Contacts
Personal Notes
Personal Tasks
RSS Feeds
Syncronisation with Outlook
Content and Spam Filtering
Auto responders, forwarding, plus addressing, etc

---
Mark Lancaster
Secretary
The Exiles
www.the-exiles.org.uk

Primoris - Fiore training book

Mark Lancaster
Forum Admin

United Kingdom
1651 Posts

Posted - 24 Sep 2011 : 10:12:55



---
Due to massive price rises, Sunday training is moving out of the Abbey Sports Centre. Other training is not affected and Weds training will continue at Abbey for the time being.

Contact us directly for more information.

---
Mark Lancaster
Secretary
The Exiles
www.the-exiles.org.uk

Primoris - Fiore training book